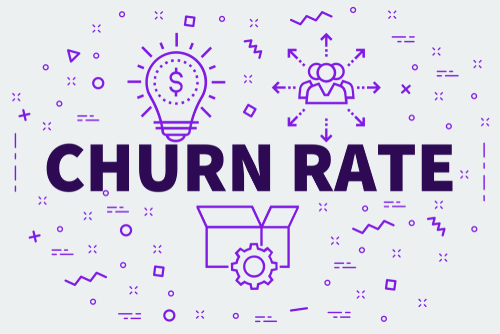 Do you feel like your business churns through customers at a rate of knots and you always have to drum up new business? Maybe your customer churn rate needs a little tweaking to get your business firing on all cylinders.

A business churn rate is essentially the number of customers or subscribers who cut ties with you and your business in a given period.[1] To calculate a percentage figure it is relatively simple, you take the number of customers your business lost, divide it by the number of total customers and this gives you your churn rate as a percentage.
Why does churn matter to your business?

Your businesses churn rate affects your bottom line! Depending on which study you believe, and what industry you're in, acquiring a new customer is anywhere from five to 25 times more expensive than retaining an existing one.[2]
So the next time you are thinking through your customer service program, your account management process or customer engagement tools consider whether your business can afford twenty-five fold on your expenses to keep your current customers satisfied, as advocates and financially committed to your business.
How can businesses reduce their churn rate?

The key in this area is to ensure that your customers are engaged, connected and passionate about your product or service, that way not only do they stay local, but more importantly they become advocates for your brand.
Like many Australians, you probably have more loyalty cards in your wallet than you know what to do with! The question is how can you add value to a loyalty program that rewards not only financially committed customers but also the 'non-financially committed'?
These members may be 'on the fence' when it comes to financial commitment, however, you have enough details from them to get in contact via a range of methods including phone, email and even post to work on the transition to lead to customer. It is key that 'conversion' is the focus through the injection of real and 'perceived' value of your product, service, membership or subscription.
You need to ensure your communications and marketing campaigns create an aspiration for the prospective customers to convert to financially committed customers.
With this done, the next question is, how do you reward continued purchase? It needs to be more than a free coffee or movie voucher every now and again. With the data you're generating through your customer's purchases and engagements with your brand, you need to speak directly to them, give them what they want, what they ask for, not what you 'think' they want!
First year members, subscribers or customers are often the most difficult to keep on board. In many ways, 'renewal subscription' services that are automated keep customers financially committed to a degree, but does it keep them passionate about your business, team or cause? The simple answer is no. Subscription services deduct a yearly, monthly or weekly fee from a customer's account without the correct engagement techniques, meaning businesses will quickly lose customers as quickly as you gained them.
Your first year customers, members or subscribers should always be given a little extra love when it comes to your engagements. If you are utilising an automated EDM service, ensure that 'first years' have their own communications list, their own communication and feel special, included and obliged to resign, re-join and recommit financially.
A more effective mechanism is to have direct contact with first-year customers not only through an EDM but an integrated approach with call centre staff connecting over the phone for customer service calls and potentially a personalised direct mail out, with value add offers to celebrate their commitment to your business.
How do you manage your membership base?

Invest in CRM
CRM or customer relationship management is not a new thing, nor is it a 'buzz word' in the industry right now, it is just that many companies simply don't do it well!
With the pressures of running your business, driving new business and ensuring all areas within your business are running smoothly, it is important to regularly ask yourself 'is your customer management maybe slipping a little'?
Many companies download an off the shelf cloud-based CRM software and think they have everything sorted. But a tool is only as good as the person using it! There are many services available in terms of membership management, from engagement, resigning or even sales processes that can all be outsourced to third party companies, letting your team get the heavy lifting done externally. In today's ever-changing and competitive business world, would you rather your sales people are out in the field or in the office on the phones?
Direct mail out campaigns

In addition to your email and phone communications, there are large segments of business and consumer communities that unless they see it on a flyer or in the flesh, they simply don't take notice.
When trying to reduce customer churn, not only can you outsource the ongoing management of your clients and database through email and phone, but also through direct mail outs.
These often are considered more personal, especially these days when most people only get their utility bills in the mail! A direct mail campaign can get your business into the homes of your database and off the screens.
If you're looking for answers to reduce your customer churn, increase your database engagement and allow your sales and BDM teams to get out on the road and generating new business speak to FCCM today. Our team can work on a tailored plan to help you grow and exceed your business objectives.
Visit www.fccm.com.au, email sales@fccm.com.au or call (03) 9553 2888, FCCM services businesses across Australia and have a range of products and services to suit all your client needs.
[1] http://www.churn-rate.com
[2] https://hbr.org/2014/10/the-value-of-keeping-the-right-customers